Golden Putter courses are the ONLY way to enjoy the great game of mini golf!
With five fantastic outdoor courses across the UK, Golden Putter are giving you the chance to get more from your mini golf experience.
You can take mini golf to the next level by entering your score on our leaderboard, announce your achievements on Facebook and Twitter and check out how you fare against players at your local course and across the country.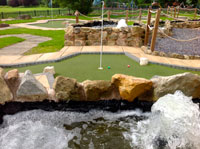 The very best players will be invited back to play for the Golden Putter Trophy and win amazing prizes!
You can also sign up today to receive exclusive Golden Putter discounts for your next game of mini golf!
At Golden Putter we don't just have amazing courses, brilliant prizes and new challenges - we want to make sure that you have the very best mini golf experience possible!
Share your scores with Facebook and Twitter, challenge your friends and family and who knows? You could find yourself competing for the Golden Putter Trophy!